7th Annual Cold Turkey Plunge
November 30, 2019 @ 1:00 pm - 2:00 pm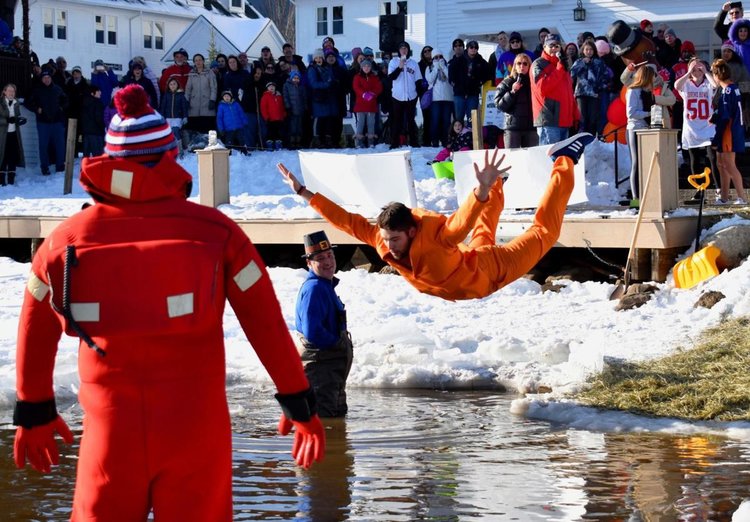 Yes, it is that time of year again. Time to prepare for the annual dip. On Saturday, November 30, Captain Tom Turkey will once again lead his Fearless Fowl Feathered Friends as they plunge into the frigid waters of Corcoran Pond in beautiful Waterville Valley to raise funds for the Waterville Valley Adaptive Sports Program.
All proceeds raised at the 7th annual Cold Turkey Plunge will be used to purchase specialized adaptive athletic equipment and provide ski and snowboard lessons and equipment for children and adults with cognitive and physical disabilities.
All plungers are asked to raise a minimum of $50 in donations. They will be rewarded with an official Plunge shirt, a gourmet cold turkey sandwich courtesy of Chef Sean Stout of the Coyote Grill, a Waterville Valley Adaptive Sports "Empowered Bracelet," and a coupon for a free hour of tubing at the Waterville Valley Tubing Center this winter.
Additional premium incentives will be awarded for reaching fundraising benchmarks. Prizes will be presented to individuals and teams in a variety of categories including Best Costume. Costumes are optional, but encouraged.
This year you can be a VP. That's a Virtual Plunger! Place a donation of $50 or more to team VP at firstgiving.com and send a goofy picture of yourself to info@watervilleadaptive.com. WVAS will photoshop you splashing and plunging into the icy waters of the pond.
Corcoran Pond beach will be rocking with the annual Polar Pool Party. WVAS will 'sacrifice' a Waterville Valley snowmaker to Techumshrina, the Snow Goddess of the pond, to ensure a great ski season.
– Go to https://www.firstgiving.com/event/wvas/7th-Annual-Cold-Turkey-Plunge-to-benefit-Waterville-Valley-Adaptive-Sports
– Create your own team, or choose a team to which you would like to donate.
– Kind of the old fashioned type who prefers paper and greenbacks? We've got you covered. Download your pledge form here
Related Events